Travels on the Dance Floor by Grevel Lindop
Gravel Lindop combines the experiences of travel and dance to create an inspiring account of an adventure in Latin America.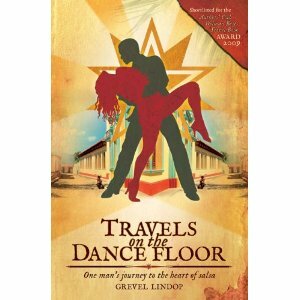 Though reading is one of my favourite pastimes, another one of my passions is salsa dancing. I obviously couldn't help but notice the book on my friend's counter, the words "dance floor" poking out underneath a pile of newspapers, asking me to pick it up. So when he offered to lend it to me I was naturally excited, and after only a couple of pages the book had me hooked.
About the author: Grevel Lindop is a British author who is more well-known for his poetry. He start writing poetry at a very early age, and later when on to publish his first full-length collection of poems, Fool's Paradise, in 1977. However, he diversifies his writing, having written a biography, a literary guide to the Lake District, and of course his autobiography/novel Travels on the Dance Floor amongst other things.
About the book: The book could qualify as a mini autobiography, just as it qualifies as a travel book, and it could just as well be a novel. In fact, they key to success to an autobiography for me, is if it reads as if it were a novel, and in this case Grevel Lindop has definitely succeeded. Aside from being an author and a poet, Grevel Lindop is also a keen salsa dancer. In this book, he tells us how he started salsa dancing, and we follow his passion as he decides to go to Latin America to find out more about salsa and its origins.
The book starts off in Manchester one cold day in January, when as part of a new year's resolution Grevel and his wife decide to try to learn salsa dancing. Though they are initially a bit skeptical, they soon get hooked and start dancing on a regular basis in clubs in Manchester. Soon enough however, it is clear that the Manchester dance scene is not enough for Grevel, as he decides he wants to learn more about salsa in the countries from which it originated, and discover its origins. And so it is that he decides to set off on what can only be called a salsa pilgrimage through Latin America, in the countries in which he deems have the necessary salsa background.
First stop is of course Cuba, in which he becomes acquainted with the joys of being a traveller. What it's like to arrive at a ridiculous hour at the airport, feeling completely jet-lagged having no idea where you are. The sudden confrontation with a completely different culture and different people, in a place set back in time. In Cuba, his salsa instruction starts with the lovely Geldys, who teaches him salsa from scratch all over again and a completely different way of moving his body. He discovers the Cuban way of life and culture, and is soon introduced to the Orishas.
From Cuba, Lindop goes to Venezuela, Colombia, Panama, Puerto Rico, the Dominican Republic and ends up in Miami on the last leg of his trip. We follow him as he discovers the main Latin American cities, learns different styles of salsa, discovers the nightlife wherever he is and encounters the different cultures across the different countries. And of course, we also follow him as he meets a variety of different and interesting people: locals, travellers, poets, dancers… Each have a story to tell and with each of them Grevel discovers something new.
We also read about all the small incidents and details that are an inherent part of the traveller's journey and experience. In this book, Lindop manages to combine two essential factors: dancing and travelling, and he does it extremely well. For anyone who has ever travelled this book will resonate, as he describes exactly what the experience is like and you can fully identify with him as he picks up his backpack and ends up in some dodgy or decrepit hotels. And for anyone who has a passion for dancing and in particular salsa, this book will also resonate as he manages to describe the real passion that ignites the locals and their different knowledge and teaching of dancing.
Finally, for anyone who has been to Latin America or is dreaming of going, Lindop's book will only help to confirm your desires and push you to book that flight. He has succeeded in combining several styles and passions, creating a book that you can't put down and that makes you want to hop on the next plane to La Havana.